Move Over Google, Microsoft Windows Just Came to the iPad
I have to admit something, dear followers.
I wasn't sold when I heard about Microsoft Office's adventure into the sleek and shiny world of the iPad. But after reading this Inman article, I softened up a bit. And hopefully you will, too.
The Microsoft Office suite for iPad includes Word, Excel and PowerPoint. The newly rebranded OneDrive (formally SkyDrive) and OneNote are also available.
Microsoft is transitioning to a "mobile-first, cloud first" business model so the new move makes sense.
But what about those of us who eat and breathe Google? If you think we're giving up our precious Google Docs, you are sadly mistaken.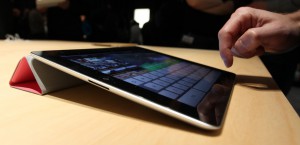 It's impossibly easy to access Google's tools.
All you need is a Gmail account.
Can you believe 425 million people had Gmail accounts two years ago in 2012?
Sometimes It's Good to Go Back to Your Roots
A.k.a. Microsoft.
People just love Excel.
Microsoft announced that Office for the iPad has been downloaded more than 12 million times. Does that surprise you?
I don't want to lie to you. It surprised me.
Get the Scoop
The author of the Inman article, Tom Flanagan, had this to say about the new app:
"The suite responds seamlessly to touch and the apps are nicely designed, providing a positive user experience."
Here are five things you need to know:
Microsoft Office for iPad requires iOS 7 or later.
Microsoft Office is free to download from the App Store. However, it is a read-only file. To unlock the full version, which allows you to create and edit files, you must have a subscription to Office 365.
A subscription to the service is $99 a year. Outlook is not included in the software suite, but there is a stand-alone Outlook Web App available in the App Store as well.
Also keep in mind that Microsoft Office is only compatible with OneDrive. If Microsoft truly wants to embrace the cloud and be platform agnostic (as Inman put it), adding the ability to save documents to Dropbox or Google Drive is the way to go.
Unlike iWork, Office for the iPad does not support the ability to print.