Realtor IDX Websites, CRM, Lead Generation
REfindly's Realtor IDX Websites, CRM, Lead Generation
The Realtor IDX Websites, CRM, Lead Generation and other services provided by REfindly are being recognized in the November, 2016, issue of Florida Realtor Magazine. The magazine did a feature story on various "A-ha Moments" encountered by Realtors, and in this case, the magazine went on to account of the success experienced by one of REfindly's earliest of clients – the team at Domain Realty Group.  The magazine story noted how this team of agents have used REfindly's Realtor IDX Websites, CRM, Lead Generation and other services to navigate through all points of the sales process – from the very generating of a lead, through engagement, conversion of the prospect into a customer, the closing transaction and even beyond. According to Jesse McGreevy of Domain Realty Group, the "A-ha Moment" came when he realized how our technological system could make him even more successful. As the story noted, "Thanks to better technology, McGreevy can control costs and handle leads more effectively." He also said the REfindly's administrative system which allows for convenient tracking of progress with each lead has TRIPLED HIS BUSINESS. The magazine further accounted of how this team of Realtors have used REfindly's platform to establish a network of property search websites dedicated to cities, communities and even particular developments throughout Southwest Florida. Though he had tried a number of solutions early-on ( described as "cumbersome and expensive"), McGreevy described REfindly's services as "effective and affordable." To read the story, Click Here.
The Team at REfindly is VERY GRATEFUL for this endorsement. And while we are accustomed to this kind of feedback from clients, it is always, especially exciting to see such praises printed in the leading publication for Realtors in Florida.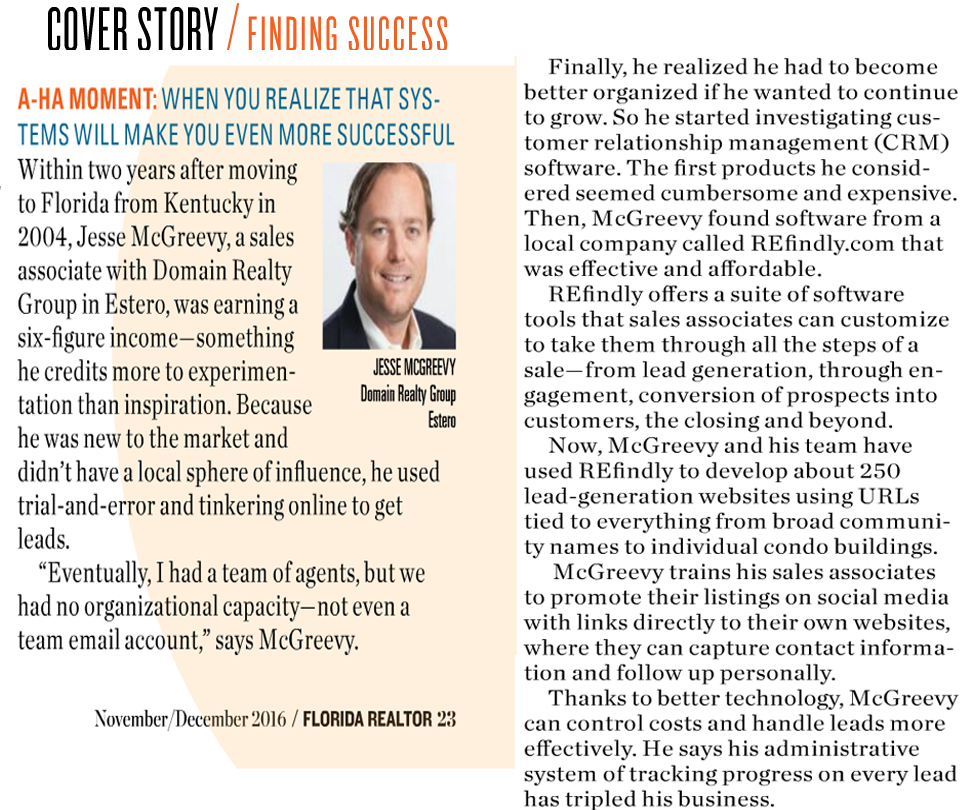 This is actually the second time Florida Realtor Magazine has accounted of the success REfindly clients have experienced. Almost two years ago, the magazine did a story on Realtor Nancy Baird who serves the markets of Tampa and St. Petersburg. That earlier article likewise conveyed how the real estate agent used REfindly technology to manage her business operations and ultimately achieve more sales.
For a team of computer geeks who spend most of their time staring into computer screens, crunching code and parsing MLS data, we do celebrate the success of our clients. Nothing makes us feel more successful than seeing our clients being successful, and we are both honored and humbled to serves as partners in that success with ALL of our clients.
If you'd like more information on REfindly's customized Realtor IDX Websites, CRM, Lead Generation and other services, please write us at info@REfindly.com.