Your Home Page "Communities" List
Depending on your REfindly site's theme, you may see a list of communities on your home page that looks something like this: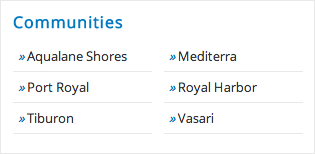 These are links to pre-defined searches that will display all properties in the community. You can edit this list from your Customize page. The list is able to show any community in your MLS.
If you want to highlight communities in more detail, be sure to use our Communities and Subdivisions tools.