Social Media Tips for CEOs Who Want to be More Involved
Many CEO's want to manage their business' social media presence, but they don't know where to begin.
How do you carve out a block of time when just thinking about carving out a chunk of time dedicated to social media each day just seems stressful? And once you do find time, how do you use it effectively?
Using these helpful tips from Moz, we'll give you some pointers.
But First, A Note on Social Media as a Whole

One thing that we (and Rand) like about social media is that it helps us feel connected to the broader community we engage in without a big time, stressful commitment.
"Staying up to date on the four primary networks I use (Twitter, Google+, LinkedIn, and Facebook) isn't usually more than 45 minutes a day, broken up into chunks of between 30 seconds and 10 minutes," Rand Fishkin from Moz said.  "Granted, that's using social media in what I'd call 'maintenance mode' rather than 'active investment' mode. When I was starting out, I did more content creation, more web-wide participation and more sharing of all kinds."
Nowadays, Fishkin has three primary activities: He shares things he finds interesting, helps to strengthen what others have shared and replies to those who engage with him.
"For me, those interactions are both enjoyable and thought-provoking. They help me think bigger than my day-to-day at Moz, and hold me accountable to a wider swath of my fellow start-uppers, executives, marketers, techies and social media users," Fishkin says.
How Do CEOs Find Time to Do Social Media?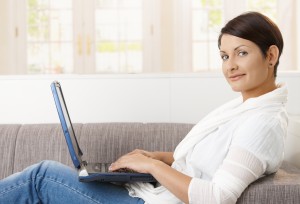 Fishkin says he fits it in "wherever." 15 minutes there. 10 minutes here.
Fishkin says he keeps the number of people he follows 'very carefully curated', seeking out only those whose content is stimulating and beneficial from a business case standpoint.
"It's heaviest in the morning and the evening when I'll spend uninterrupted blocks of 10-15 minutes skimming, participating, replying and sharing. It's far more intermittent in the middle of the day, when I check in between meetings or while traveling (though I try to be careful not to do it while walking outside!)," Fishkin says.
Never skip out on social for days at a time and if you do, let your audience know. The last thing you want to do is make them think that you've abandoned them.
"All in all, this isn't an intensive process for me. It feels natural and comfortable and I always learn something by skimming my feeds. That alone makes my investments in social ROI-positive," Fishkin says.You should get excited about the people you follow. Picking through your social media feed should excite you.
But most importantly, you want to be known as a resource for relevant information relating to your brand.
Here Are Rand's 5 Best Pieces of Advice
"Social success for your startup is not the same as social success on your personal accounts. But, I still like to make 1/10 social shares personal rather than professional." –It adds a human element, which is always a good strategy.
"Keep a high signal to noise ratio, but don't be afraid of sharing something more than once. Remember that if you have a geographically distributed audience, you likely have folks who are on social at very different times." –A very good point to keep in mind.
"Social is a conversion funnel process just like any other form of marketing. Make sure you're exposing and delivering consistent value from first exposure (your profile) to conversion (earning that fan/follower), to retention (keeping your audience engaged)."
"Don't just broadcast; interact. That means replying, reaching out, and, my favorite, helping others to spread their great ideas and content." –Have fun and don't be afraid to put yourself out there.
"Test, track, analyze and optimize. Social is a lot like SEO, but instead of algorithms, there are far more complex human beings mapping your success. Thankfully, unlike SEO, social isn't a zero sum game."