Real Estate Tools that Make Going Paperless so Much Easier
Going paperless has never been so easy.
All you need is your army of real estate tools and to know how to use them.
Samantha Powell is a real estate agent in Chicago. She doesn't touch paper unless it's the check that closes the deal.
It's no secret that we are smack dab in the middle of the information age and it seems like more and more businesses are switching to electronic storage and communication strategies.
Real estate is no different.
Contracts became available as PDF forms around 2006 or 2007, according to Powell.
PDF's are easy to read, email, they don't get yellow and degrade in quality like normal paper, and you can store them on your hard drive or in your cloud. No longer will you have to sort through boxes of storage to finally find what you're looking for. We all know how much of a pain that can be.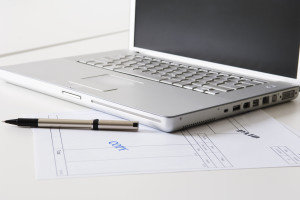 So, What Real Estate Tools Can Help Make a Realtor's Job Easier?
Dotloop: Dotloop was launched in 2010. It is an online workspace that lets realtors manage their real estate transactions from the offer to the closing. It was built from the ground up and is an entirely new way to complete real estate transactions, according to Powell.
Evernote: This is a cloud-based real estate tool that can be accessed anywhere and by anyone. No need to be a realtor here. I like to write down reminders, random notes, etc. on sticky notes—but I almost always lose them. This won't happen with Evernote. You can't accidentally misplace it, unless you misplace your phone. You can't crumble it up and accidentally spill coffee on it. It's a great tool to have in your repertoire.
A Wi-Fi hotspot: Whether you have Sprint, Verizon or any other wireless provider, do yourself a favor and go get yourself a portable Wi-Fi hotspot. As any realtor knows, you're constantly on-the-go and you never know when you're going to have to show a house or close a deal. A portable Wi-Fi hotspot is perfect for any last minute research you may have to do before you go meet a client.
Wireless Multipurpose Printer/Scanner: You never know when you're going to need to scan a document. Who knows—how fast you can get to a scanner could determine whether or not you land that coveted property for your buyer. You just never know. It's always a good idea to have your real estate tool army with you just in case.
Constantly being connected can be both a blessing and a curse. If you're constantly connected you will be In The Know a lot sooner than someone who doesn't check their email on a regular basis. Always being connected could and probably will result in better job performance, especially in a constantly connected environment like real estate.
However, with that new found connectedness comes new responsibilities. Utilizing new technology to its fullest extent is not a bad thing, but it does take a little more effort to balance your work and home life, especially if you have a family. It's important to be aware of that as you venture out into the wild and get your hands on all of the new and exciting apps and gadgets. It's easy to get addicted, but it's different for everyone.