New App Revolutionizes Real Estate and Helps you Explore your Community
What if you could take a visual tour of the community you're thinking about moving to and see the unique elements, discovered by extraordinary people, exclusive to that community—like a favorite bartender, barista or secret path to a secret beach?
Realtors, what if you could physically show your clients the top 10 places to grab a bite to eat or go out with your friends on a Saturday night? That would undoubtedly take your client's home search to the next level because you can explore your community in real time.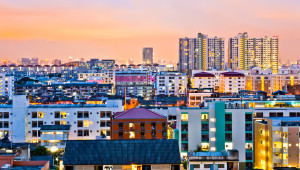 Exploring your Community in Real Time is Possible with Trover
Trover, the new app for Apple products and soon, Androids, launched by Zillow Cofounder, Rich Barton, Andrew Coldham and Jason Karas, kicked off earlier this summer.
During a limited trial, the Trover community attracted more than 70,000 Facebook users in 150 countries, according to PR Newswire.
Think of it like Pinterest meets yelp meets Foursquare meets Instagram. It's a mobile discovery network that connects you to millions of users around the world that makes it easier to explore your community. Trover lets you share location-specific discoveries of places and things in a visual way, according to this article from Tech Crunch.
The founders told Tech Crunch that the user experience is supposed to be similar to the feeling of window shopping.
"I've always dreamed of having a personal guide to the world with me at all times, full of recommendations from my friends on where to go and what to see," said Rich Barton, chairman of Trover.  "Likewise, I have a strong urge to capture my own discoveries, so when my friends and followers come by in the future I can steer them to the good stuff.  This is why we built Trover."
Another neat feature is this: when you open the app, you can sign-in with Facebook. This will pull up a grid of photographs based on your location and you can even see locations shared by your friends.
It's easy-to-use too: Snap a quick photo, create a description and Trover will automatically tag it with the location information. Like Instagram or Pinterest, you can also follow other users to see what fun and exciting things they're up to in their community.
It's Also Great for Real Estate Agents
Think about it. Who knows more about the community than your local real estate agent?
Agents could use the app to show prospective buyers the community—not just what it looks like in real time, but the hip places to go grab a bite to eat, grab a few drinks or kick back on a lazy day.
Travelers or new locals can also benefit from Trover.
There's nothing worse than being new to the area and wanting to meet people, but not having the slightest clue where to go on a Friday or Saturday night. Now, with Trover, you'll never have to worry about that again.
Get Involved with your Community
Get involved and make a local list and share it with your Trover peers. You'll have fun adding your own personal touch and feel rewarded when your list helps others navigate their way around your home sweet home.
These lists could help travelers just passing through find an amazing place for dinner; realtors show their clients the community; or help new area transplants get their bearings.